Happy Holidays! Our floral workshops are hosted in the backyard studio barn and are offered to the public every Tuesday and Thursday from 6-8 PM, with a maximum capacity of 12 participants. Each week will include a different holiday-themed arrangement. You are welcome to bring your own beverages. Hand sanitizer, tools, supplies, flowers, and plants provided.
We also offer custom classes, for private groups of 8 to 20. Private custom group classes choose the date, time, and design. Please email us for more info!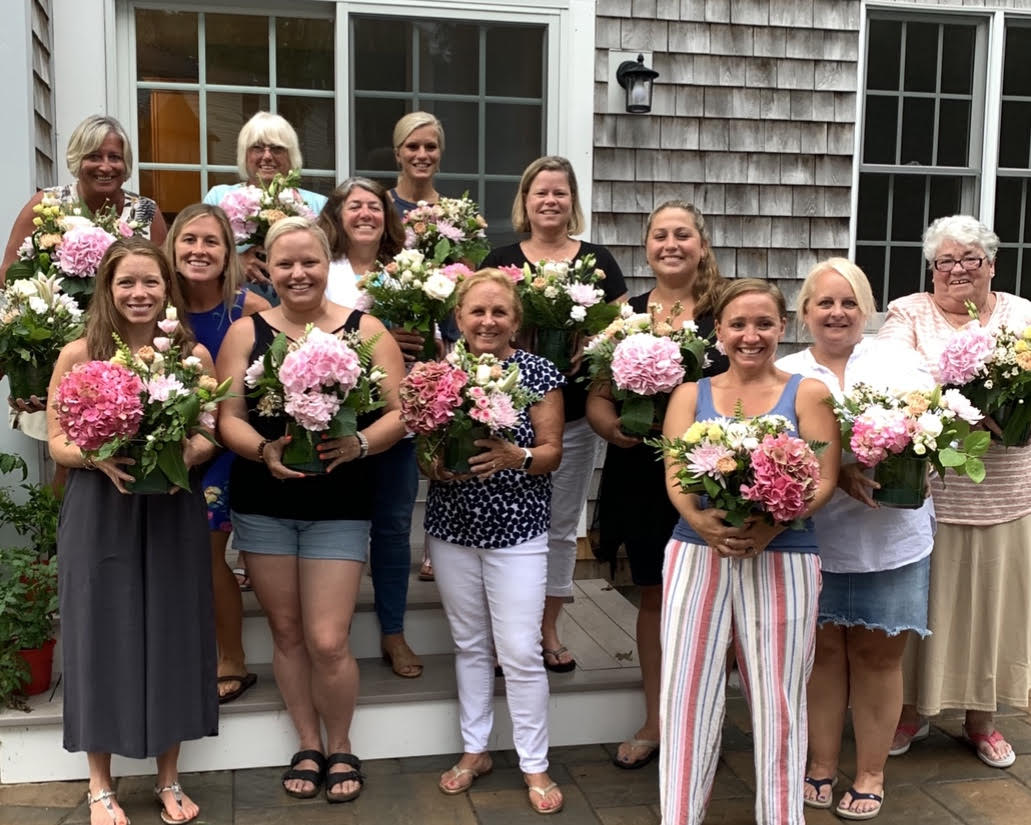 Holiday Series, Class - Holiday Boxwood Tree
Create an adorable mini-tree made of fresh boxwood, ornaments, ribbon, sea, and woodland treasures, with a little bit of sparkle. The tree will last beyond the holidays, and makes a great gift, too! $85 per person. BYOB. 𝗖𝗹𝗮𝘀𝘀 𝗺𝘂𝘀𝘁 𝗵𝗮𝘃𝗲 𝗮 𝗺𝗶𝗻𝗶𝗺𝘂𝗺 𝗼𝗳 𝟴 𝗮𝘁𝘁𝗲𝗻𝗱𝗲𝗲𝘀. 𝗣𝗿𝗲-𝗽𝗮𝘆𝗺𝗲𝗻𝘁 𝗶𝘀 𝗿𝗲𝗾𝘂𝗶𝗿𝗲𝗱.
Tuesday 12/7. 6-8 pm $85 pp.
Very creative and beautiful work! KJ really listens to the bride or the event host to make their day exactly what they wanted. I've referred her out to many friends, and never were they disappointed
Melissa S. /Brookside Golf Club, Bourne, MA
Kristyn held a private party at our home for over 15 women. It was an amazing hit, and she brought everything necessary for everyone's flower arrangements. I can't recommend it enough!
Joseph M.
Kristyn was the best for our Opening Tent night at the Sagamore Inn Restaurant. The flowers were absolutely beautiful that she was kind enough to display at our event! Thank you thank you thank you!
Hayley D., Sagamore Inn Restaurant 
Kristyn was the absolute best. Her designs are so beautiful and she understood exactly what we were looking for. I gave her a little bit of direction but the end result was so much better than I ever imaged! I still keep talking about the flowers!
Jillian M. 
Kristyn was AMAZING - we gave her direction and she made our vision completely come true! people were commenting on our bouquets and table arrangements all night!
Page H.